GSM KEY LITE 3+
GSM KEY LITE 3+ is an upgraded model of the popular GSM KEY LITE 3T. This model replaces the models GSM KEY LITE 3 and LITE 3T.
GSMKEY allows the user to open and close gates, doors or barriers with your mobile phone FREE OF CHARGE. This smart controller is suitable for regular households and small companies. User administration via mobile phone. Version suitable for installation to the gate drive.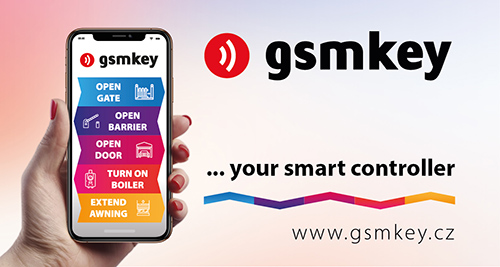 New upgraded functions:
• 50 users
• NanoSIM card
• Signal status via SMS
• SMS reset function
• Reset button - factory setting
The packaging includes:
• GSM KEY LITE 3+
• GSM dual band antenna 2 dBi
• 8 and 2 pin cable terminal block
• 3M Dual Lock Velcro
• 2 x 0,5 m cables
• Quick guide with installation instructions
The terminal block is made out of 1 output for connecting a gate, door or barrier and 2 passive inputs for buttons, photo sensors etc.
The AC adapter is not included in the package, it is possible to purchase it as an accessory with the order code AM-RT-FPOWR.