Olife Energy Stand charging station AC 2x22kW - BASE
Olife Energy AC rack charging station for charging electric cars with alternating current. Two cables with plugs are included (Mennekes). The big plus of the station is that it can charge two electric cars at the same time, each with an input of up to 22 kW. Charging starts automatically when the connector is inserted into the vehicle or after identification by an RFID card (RFID chip). The station is in a robust metal design.
The BASE variant is suitable both for private operation or for operation in smaller companies. The station is equipped with a power limitation function against electrical network overload. To shorten the charging time, the station can divide the power input between two charged vehicles according to their needs.
The total power consumption of the station can be dynamically regulated using the external module OlifeEnergy SmartMeter BASE. SmartMeter is a device that ensures optimal use of the capacity of the electrical connection by measuring the current consumption of the station or its sub-circuit and evaluates the available power input for the OlifeEnergy charging station. The station then regulates the charging current according to the available power input.
Specifications charging station AC - BASE:
• Design: Free-standing heavy duty stand
• E.V. connection: Cable with plug (IEC 62196-2)
• Plugs:  AC22MM – twin Type 2 (Mennekes) / AC22MY – Type 1 (Yazaki) + Type 2 (Mennekes)
• Control: Local – automatic or RFIDRemote
• AC Input: AC3 + N + PE 400V 50 Hz, TN-SAC3 + PEN 400V 50 Hz, TN-C
• Input voltage: 400 VAC (50Hz)
• Input current: 0–63 A
• Surge protection: 2x 4pole breaker 32 A
• Surge protection: 2x residual-current circuit breaker 40 A
• Communication: OlifeEnergy Cloud, OCPP-J, 1.6, 2.0
• Data connection: Ethernet, USB (GSM, Wi-Fi)
• Operating temperature: -30 °C to 50 °C
• Operating humidity: 5 % to 95 %
• Dimensions: 2000 x 560 x 380 mm
• Weight: 110 kg
OlifeEnergy charging station is offered in BASE and SMART variants. The comparison of both variants is in the table below.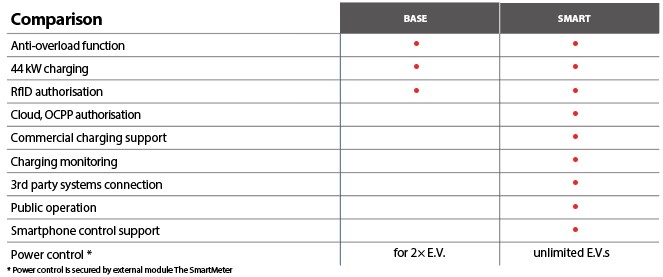 Technical parameters can be found in the attached datasheet.