OlifeEnergy is one of the leading Czech manufacturers of charging stations for electric cars. It specializes in wallboxes, AC stand charging stations, but also in DC stations with a power output of up to 360 kW, the so-called superchargers. The stations are easily recognizable thanks to their simple and elegant white and green design. They are made of a robust metal construction with a modular system of installed components, which allows easy replacement without the need to dismantle the device.
Chargers with unique extended functionality are entering the market
The Solar management is an extension function for regular (AC) OlifeEnergy charging stations which supports the communication with solar inverters for home photovoltaic power plants. The communication is secured via a local network (LAN) using WiFi or Ethernet via the ModBus TCP protocol. One of the advantages is also the extended possibility of managing and setting up the station on the local network. Solar management is compatible with the BASIC version, and cannot be used with the SMART version of OlifeEnergy charging sites.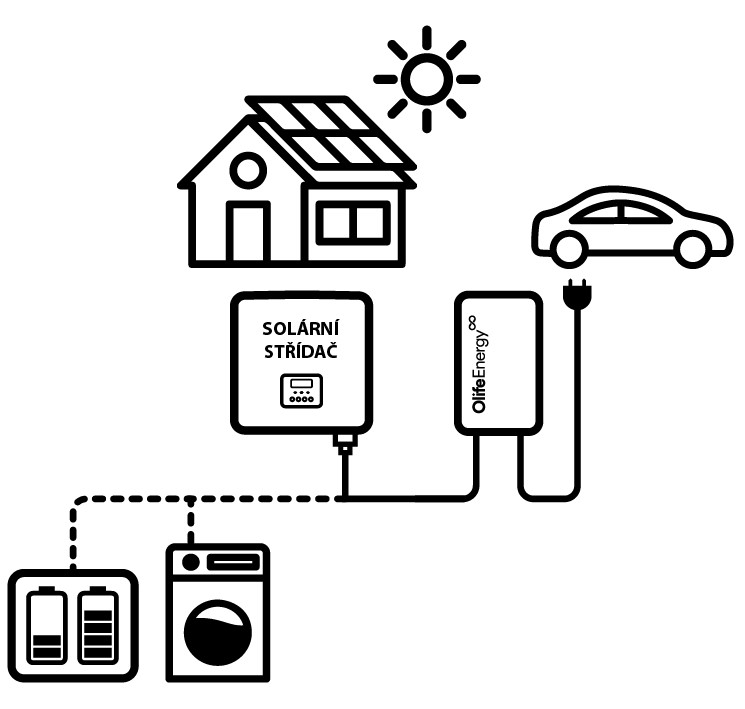 Novelty! Chargers with extended communication towards the photovoltaic inverter
The cooperation with the inverter allows the station to control the charging of the electric car, so that the highest possible charging speed is achieved with the maximum efficiency of the produced solar energy. There are several charging modes according to which the charging station can be set - circuit breaker protection / solar charging / advanced monitoring. It's also important that thanks to this communication, the data from the 'smart meter' of the inverter are used for the dynamic power management and the protection of the object's main circuit breaker. This function is available for the OlifeEnergy Wallbox, DoubleBox and AC stand charging stations. Currently, these devices are compatible with GoodWe, SOLAX, Dražice, Huawei and SOFAR inverters. This group of brands accounts for the majority of installed photovoltaic power plants in Europe.

SECTRON is an authorized distributor of the OlifeEnergy brand. Our portfolio includes OlifeEnergy Wallbox, DoubleBox and AC stand stations.