We are connecting still more and more devices to the Internet. This is especially true for households that are becoming SMART. Computers, laptops, phones, tablets, TVs, as well as smart domestic appliances such as robotic vacuum cleaners, refrigerators or gates to control lighting and blinds, these all require an internet connection. The basis of a quality connection is the acquisition of a home router and the selection of a suitable supplier.
The location of the router is essential to receive a high-quality signal. It should be located ideally on an elevated site. In the case of a larger household/company, it is advisable to purchase extenders (repeaters) that can cover with signal a larger area than one device can handle. Walls and ceilings degrade the signal quality. If you use a router with antennas, it is advisable to point them in several directions. It is also important whether you connect specific devices via Wi-Fi or an Ethernet cable.
Different models of routers are equipped with several LAN and WAN connectors. LAN connectors provide the connection of devices such as televisions or game consoles to a local network. WAN connectors allow the router to be connected to the Internet. Some routers also have USB ports through which you can connect printers, for example.
Regardless your Internet use purpose, we recommend purchasing a home WiFi router that allows connection on 2.4 GHz and 5 GHz frequencies. The 2.4 GHz frequency is still widely used for common Internet surfing and simple tasks, but it is not that fast and the signal on that frequency can be easily interfered. The advantage is that even older devices support it.
On the contrary, for videos streaming, playing online games and transferring a larger volume of data, a connection to the 5 GHz frequency is better. On the other hand, the disadvantage of the
5 GHz band is a shorter range and poorer permeability through materials such as panels or bricks.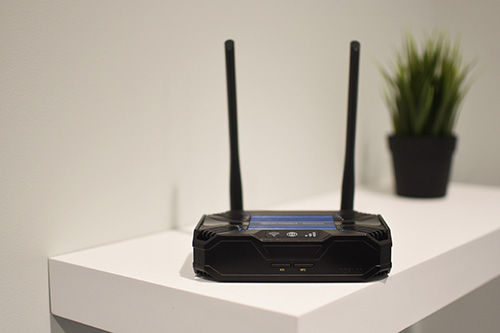 As we specialize in wireless technologies, you will find in our offer home routers with the possibility of connecting to the Internet with 4G LTE speed using a mobile operator and its inserted SIM card with a data tariff. The use of these routers is suitable not only in homes, but also in cottages, caravans or gardens. Simply everywhere where it is not possible to bring an internet cable. Thanks to their small dimensions, you can take these SIM routers anywhere you want. Another advantage of this router is the use of data from the SIM card for a backup connection to the Internet. In the event of a network outage of the main provider, your backup connection will be switched on and you will still stay online. It is advantageous for households with a camera system and other security, for example.