Teltonika TMT250 - Autonomous personal tracker 
Teltonika TMT250 is an autonomous personal tracker with GNSS, GSM and Bluetooth connectivity. This mini tracker is designed for monitoring people, pets, cars, sports events, etc. Thanks to the IP67 waterproof housing, the tracker can be used outdoors even in bad weather conditions. The large battery capacity of 800 mAh expands the range of applications where long battery life is needed. Tracker TMT250 Offers hands-free support, software update and configuration via Bluetooth.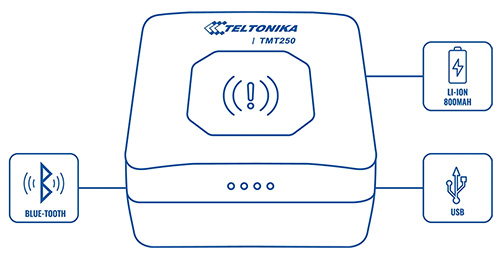 A rubber belt holder can also be purchased for the TMT250 tracker.
Features:
• IP67 Classifies the degree of protection against solid objects and water
• Bluetooth for external devices and Low Energy sensors
• Man-down feature. Used to detect fall down event
• Alarm button immediately sends a notification in case of emergency
Technical parameters can be found in the attached datasheet.