Electrically controlled gate or garage door has already became a standard.
Most of us know that moment exactly, when you arrive to your garage door and you start looking for the remote to open it. Or you come home and need to open the gate, but then you remember you left your remote in the locker room or on your working table.
You're looking for keys in your pocket and as you are pulling them out, the remote falls out of your pocket straight on the concrete floor. You find yourself holding several different pieces which you would swear you put together correctly, but the remote still doesn't work. Then you realize you are at least 50 euros lighter.
Similar situation is missing remote or broken, which leads to the need of replacing it for a new one.
Why don't you control your gate with your phone!
SECTRON s.r.o. introduces its new generation of smart controller GSM KEY SMART 3 to the market. Using it, you can operate any device connected to it. All you need to do is to call the number in GSM KEY. The gate then opens to you and to up to 1000 users whose numbers you can add into the controller's list. Operating of your device is free, since the call is never picked up. The ring tones are all you need.
It's simply a small steel metal box you add to your gate's engine and then you can control it using your phone. Additionally, if your car has the handsfree function, you can operate your gate with one click from your car without the need to look for the phone in your pockets or a bag.
The device equipped with smart controller GSM KEY is highly secured. The owner just adds the phone numbers that will control the gate. Simple and effective.
Compared to other remote controllers, GSM KEY has a great advantage in the fact, its range is limitless as long as you have your phone signal and you can also see who and when the gate was opened in the log file. 'You can basically be in a different country, enjoying your holiday and open the gate or door of your house remotely, to your family member that came to feed your pets.'
GSM SMART3 is not only suitable for opening gates or doors, it can be connected to any device with relay and no remote control. You can remotely control a water pump, blinds or you can turn on heating in your house before you get there and enjoy stay there since the first minute.
GSM SMART KEY's user administration can be done by using an intuitive PC or Android/iOS application. You can also do the same using SMS commands. Even though, installation of GSM SMART KEY is simple and intuitive, we recommend leave the installation to our authorized partners. The list of companies can be found at www.gsmkey.cz.
The trained professionals in these companies can help you not only install it into your gate, but also help you add users and help with settings. In addition, you can always turn to them for help in case of any problems.
- Suitable for family houses, industrial objects, company parking lot, hotels, Airbnb, parking lots, gates, barriers etc.
- No more keychain remotes in your pocket or a handbag - Save space, money and time by eliminating search for it.
- Event log with time and user name.
- Industrial components, many years of reliability and service life.
- The first version on market since 2006.
- Czech product with technical and marketing support and 24-month warranty.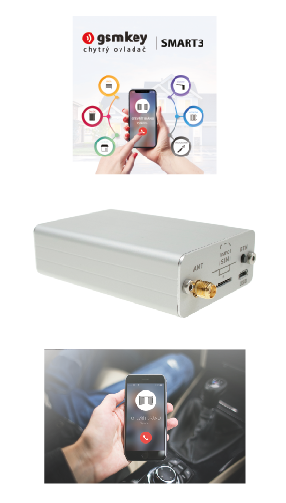 Remote control gate opening is one of the modern technologies that makes our everyday life much easier and more pleasant.