Under the patronage of the city of Pelhřimov, another year of the festival of clean mobility 2022 ELEKTROFEST will take place on Saturday, June 18. This year SECTRON is one of the supporters of this event. Come and meet us on the Pelhřimov Square. 
What is the festival of clean mobility?
The goal of the Elektrofest is to give the general public, representatives of state and municipal administration, companies and other organizations the insight into the alternative options of mobility.
Everyone can take a look at the offer of electric cars of all brands right on the square, ask questions and discuss with representatives of companies focused in the field of electromobility, as well as with enthusiasts who have become addicted to the electromobility. You will also have the opportunity to check accessories that are an essential part of electric cars, such as charging systems.
More importantly, the festival will be a fun day with a rich technical and cultural program for adults and children.

Schedule
An all-day conference and the first part of the EcoRallye will take place on Friday, June 17.
On Saturday, however, there will be already a program for everyone who is into electromobility – experienced users or just beginners who can come to have their questions answered.
During the whole afternoon there will be e-scooters and e-bikes races, electric car demonstrations, side events for children, free entry to the observation tower and also a sports corner on the playground with artificial surface.
The topics of the panel discussion are the following:
How many power plants such as Temelín do we need?
What will happen with the batteries?
Hydrogen vehicles
What is the real price per kilometer for electric cars?
Development of the charging infrastructure
Education in electromobility
Heading of Tesla communities in the Czech Republic
Energy of a household with an electric car
What will SECTRON bring to the Elektrofest?
You can easily find us on the Pelhřimov Square thanks to the Volkswagen ID.4 electric car with SECTRON colors. We will answer your questions about this model, which you can closely check from the outside as well as from the inside. We will show you and explain various ways of electric cars charging in domestic or corporate conditions. We will also give you tips on how to optimize charging costs or how to combine a home charger with photovoltaic panels. You will also see the models of wallboxes that we have in our offer.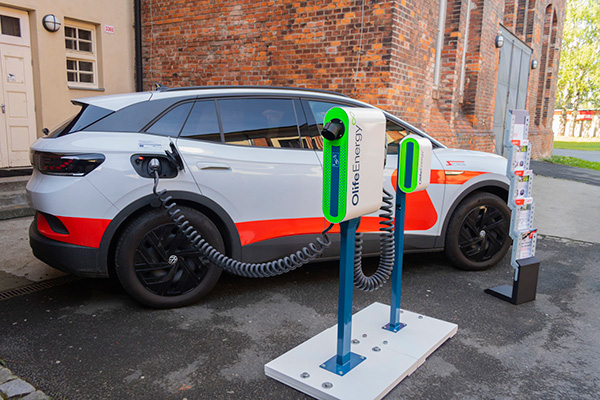 We look forward to seeing you.