Cena nabití elektromobilů je důležitým faktorem, který ovlivňuje rozhodování ohledně přechodu na elektromobily a využívání elektromobility.
Tak jako hledá každý řidič spalovacího vozidla, kde by mohl natankovat benzín nebo naftu co nejlevněji, majitel elektromobilu hledá, kde by mohl nabít co nejlevněji, nejlépe zadarmo a snížit si tak náklady na ujeté kilometry.
Kde nabíjet elektromobil zdarma?
V dnešní době se opravdu dají najít nabíjecí stanice, kde provozovatel umožňuje nabíjení elektromobilu zdarma.
Typickými místy jsou obchodní řetězce, kde toto téma uchopili marketingově a lákají tak zákazníky do svých prostor nakupovat. Obvykle zde jsou AC nabíječky, aby zákazník zůstal několik hodin. Taková místa najdete také u spousty hotelů a penzionů. DC nabíjecí stanice zdarma se hledají těžko.
Podporovatelem elektromobility se stala společnost LIDL. Tento obchodník v současné době umožňuje zákazníkům u svých vybraných prodejen po dobu nákupu dobíjení zdarma na DC nabíječce o výkonu 50 kW (max. 40 minut v ČR, 30 minut na Slovensku). Stojan je vybaven konektory CCS a CHAdeMO. U některých je také AC nabíjení. Ale pozor! LIDL nemá nabíječky všude. Najdeme je hlavně u nových nebo zrekonstruovaných prodejen.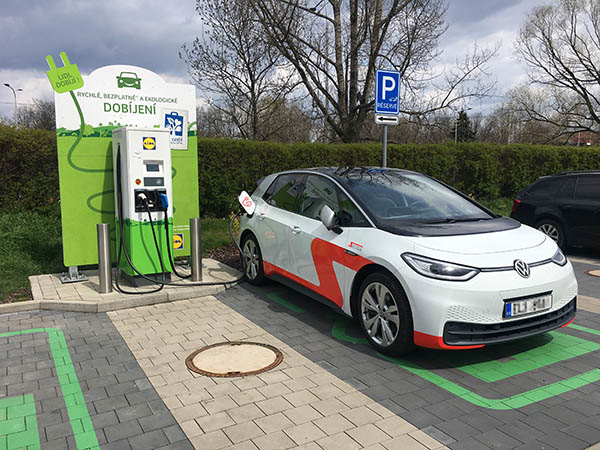 Volkswagen ID.3 v barvách SECTRON u LIDL nabíječky
Update srpen 2022
Společnost LIDL změnila strategii a postupně ukončuje nabídku bezplatného nabíjení. Nově se u Lidlu bude platit od 5.90 Kč/1 kWh pro AC nabíjení a 6.90 Kč/1kWh pro rychlejší DC nabíjení. Ceny, ale nemusí být konečné. Lidl se chystá měnit cenu dynamicky podle aktuálního odběru nebo místa nabíjení. Cena tak může oscilovat kolem těchto cen nahoru i dolů. Cenu nabíjení se zákazník vždy dozví před samotnou autorizací platby a začátkem nabíjení. Sám se tak rozhodne, jestli je pro něj cena za odebranou energii akceptovatelná nebo ne.
Jak najít bezplatné nabíječky
Na internetu dnes najdete mnoho pomocníků ve formě map s rozmístěním nabíječek jako je například EV mapa. Na stránce KdeNabit.cz si můžete vyfiltrovat i přímo nabíječky, u kterých za nabíjení elektromobilu nezaplatíte. Další stránkou je například Mapotic. Počítejte však s tím, že místa jsou přidávána a spravována uživateli a ne vždy je proto informace úplně aktuální. Ověřte si raději situaci u více zdrojů.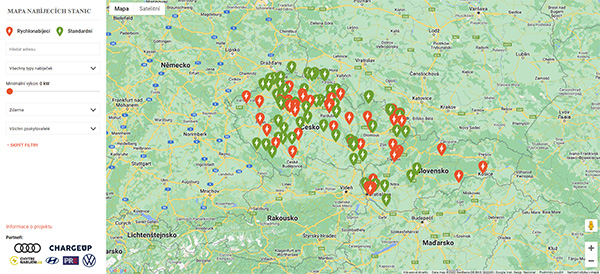 Mapa nabíječek s filtrem ZDARMA (KdeNabit.cz)
Jak nabíjet zdarma doma
Pokud hovoříme o bezplatném nabíjení doma, prakticky vždy se jedná o kombinaci nabíječky a fotovoltaických panelů. Zdarma se zde nedá chápat doslovně, protože je potřeba učinit prvotní investici do solární elektrárny. Pokud ji ale máte, je to nejlepší kombinace právě v souvislosti s vlastnictvím elektromobilu, kde přebytky ve výrobě elektřiny můžete posílat do baterie elektromobilu.
Poté už stačí jen pořízení jednoduchého wallboxu se SmartMetrem pro chytré řízení a dříve nebo později budete opravdu nabíjet zadarmo, protože čím více kilometrů najedete, tím dříve se vám prvotní investice do fotovoltaických panelů a elektromobilu vrátí.
K

terý

wallbox

umí nabít vozidlo z přebytků z FVE?
Na tuto otázku existuje jednoduchá odpověď. Jsou to všechny wallboxy od společnosti OlifeEnergy. Již v základu jsou vybaveny komunikací pro fotovoltaiku. Jedná se o protokol OCCP, bez kterého by toto nebylo možné. Vybírat můžete ze základních BASE wallboxů nebo využít možnosti vzdálené správy wallboxu přes cloudovou službu. Potom je třeba vybírat z řady SMART. U wallboxu si můžete zvolit také typ kabelu (kroucený, rovný) nebo si pořídit jen zásuvku. Kabelem je totiž vybavené každé elektroauto v základní výbavě. V letošním roce můžete na pořízení wallboxu požádat o státní příspěvek z programu Nová zelená úsporám.
Přejeme všem elektromobilistům mnoho šťastných kilometrů.