Does electromobility have a future? I can't go far with an electric car, it's not safe and it's expensive... There are a lot of myths and prejudices on this topic. We will explain the most common ones. Let's see if that's the case!
I dont't get far
This is definitely not true at all. Range of new electric cars from the ID. family built on the modular MEB platform is much larger than people think. According to the WLTP cycle, the ID.3 can be driven from 330 to more than 550 kilometers. It is no different with the brands such as Audi, Hyundai, Škoda, Seat.
There is no place to charge my car
The most convenient way how to to charge an electric car overnight is a home Wallboxes. In the evening you connect the car to the electrical network, in the morning you come to a fully charged car, which is ready to go. The coverage of public charging stations is also improving and their number is growing rapidly. In cities, you can charge, for example, in parking garages or in front of shopping malls. More and more companies offer the option of charging electric cars at company charging stations. Even during long journeys, it will be possible to replenish energy. IONITY, a joint venture of the German automotive industry and car manufacturer Ford, together with energy providers, is building a dense network of fast charging stations on motorways and major roads throughout Europe.
Can I charge my car at home overnight?
Charging an electric car at home overnight is one of the most convenient and cost-effective options. wallbox are the right solution for safe and easy charging of electric cars in the comfort of a home or company garages. All you need is a charging cable to connect to the electric car. Wallboxes can be purchased with an integrated charging cable, or a T1 or T2 socket, to which the required charging cable (Mennekes, CHAdeMO, CSS2) can be connected. This way makes the charging station suitable for all types of electric cars.
Is there another option than charging at public stations?
If you are going to buy an electric car, then a portable charger should not be missing in your equipment. Thanks to it, charging an electric car will be much easier, faster and at a low price. The portable charging station prepares your electric car for every journey and can travel with you, simply by packing it in a suitcase. There is nothing more convenient when you charge your electric car at home in the garage or at work. You don't need public charging stations at all.
Short battery life
You will be pleasantly surprised at how long it will last. It depends on how often it is charged and discharged. Volkswagen guarantees that the usable capacity of the battery will not be less than seventy percent of the original value after eight years or after 160,000 kilometers.
My battery is running low during the trip
The electric car informs in time advance that the battery is almost empty. As soon as the car starts to run out of energy, it automatically switches to energy-saving mode with optimized consumption. You can plan longer routes than the stated range of the electric car so that your rest break is in place with the fast charging station. In addition, the network of charging stations will grow exponentially in the coming years and the navigation system will always reliably guide you to the nearest one. Do you know that you can also use the Volkswagen assistance service as an electric car driver?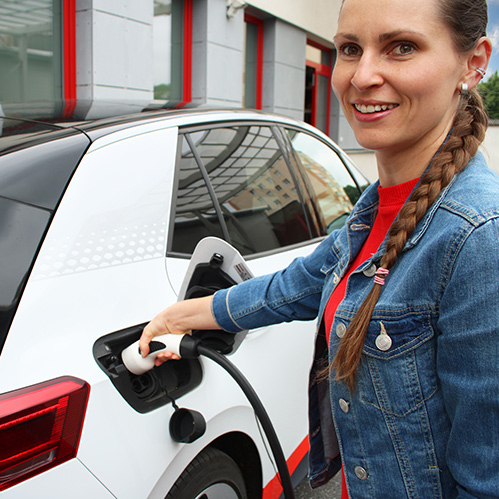 An electric car is too expensive
The reason why the purchase price is currently higher than the price of a comparable car with a petrol or diesel engine is the higher production costs of the battery. However, with the ID.3, maintenance costs are only thirty to forty percent of the cost of a comparable car with an internal combustion engine. This is because, especially with an electric car, many service tasks and a number of components that need to be maintained or changed are eliminated.
An electric car is not safe
Certified electric cars are just as safe as vehicles with other types of propulsion (petrol, diesel or gas). Volkswagen has provided rescue cards to the fire brigade, which show how to proceed in the case of a fire or accident.
Can there be a outbreak of fire?
Similar to fuel-powered vehicles, a fire can occur. In addition, there is a small residual risk of delayed fire in electric vehicles, especially in the event of damage to the high-voltage battery in which electrical and chemical energy is stored. Solid and liquid chemicals in the battery are flammable. In case of fire, water can be used immediately to extinguish. At most, the water flow can cause a local short circuit on the high-voltage system where the insulation has broken. No electricity is conducted downstream of the water used for extinguishing. And since there is no lithium in elemental form in lithium-ion batteries, contact with water is no problem in this regard either.
Can I charge safely even in the rain?
You can charge your electric car in peace even in the rain, there is no danger of electric shock. Charging safety is ensured by circuit breakers that are both in the battery and in a perfectly insulated cable. In addition, the charging process does not start until both cable connectors are securely connected and both the car side and the charging infrastructure side are checked to ensure that the connection is secure. Electricity will start flowing into the vehicle only after this check, and charging is safe even in the rain. During a thunderstorm, avoid contact with electrical equipment and do not move outside unless you need to.
Can I get an electric shock from the Wallbox?
After disconnecting the cable, you can touch the car body and nothing will happen. Electric shock can only occur after contact with both poles, positive and negative. In addition, the high-voltage battery system includes a number of measures against electric shock. You can't even reach into the wallbox connector, it's designed so that your fingers can't touch the contacts in it. However, it is much more important that the charging current is applied to the contacts only at the moment when the established connection is approved via the communication line of the cable. Electricity will not start flowing into the car until the cable connector is firmly connected to the car and both the connection on the side of the vehicle and on the side of the wallbox is checked and confirmed.
SECTRON offers accessories for electric cars. It focuses on quality charging cables, wallboxes, AC and DC charging stations.