It is a high-frequency cable reducer with a miniature U.FL(f) connector. The other side of the reducer is equipped with the most commonly used SMA (f) connector. These two connectors are interconnected by the LP088 cable, whose main advantages include a thickness of 1.37 mm. This reduction also boasts a very low VSWR parameter, which is lower than 1.3:1 in the entire working range.

Cable reduction 10 cm long including washer and nut for fixing in the panel
The AM-88-US10 reduction is used, for example, in a project based on LoRa technology, where special sensors are installed at highways leading through "dangerous terrain", such as tunnels and mountains. In such places, it is necessary to monitor the parameters of various quantities, such as soil moisture, permafrost temperature, snow depth, ground movements and tremors. These values are stored in the internal memory of the data logger, from where they must be transferred to the dispatch centre using wireless technology. Usually using some cloud service. At dangerous values of any of the quantities, an alarm is triggered by the traffic operator.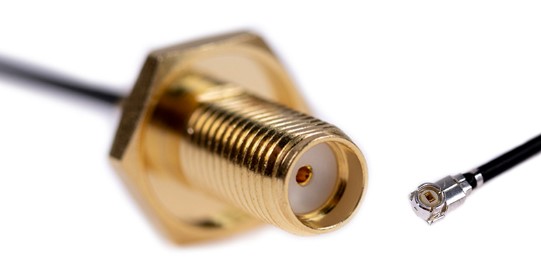 Detail of SMA(f) and U.FL(f) reduction connectors
SECTRON has been a manufacturer of cable reducers and antennas for 27 years. The reducer can be purchased with several cable lengths. You can also use the cable reducer configurator, where you can design the reducer yourself and have it custom-made.