Telit, a provider of solutions for the Internet of Things (IoT), and Thales, a global leader in aerospace, defence and security, have jointly agreed to a collaboration under which Telit will acquire the Thales IoT Wireless Modules division.
This will create a new company, Telit Cinterion, which will offer products, software, services and connectivity solutions in the field of IoT. As demand for secure IoT solutions and mobile connectivity continues to grow, it will leverage both companies' strong and complementary product portfolios and Thales' experience in mobile connectivity.
Through this collaboration, Thales will transfer its IoT wireless module division to the new company Telit Cinterion, for which it will receive a 25% stake in the newly formed company.
Telit has more than 20 years of experience in IoT innovation, delivering secure and integrated solutions to the market. It has thousands of successful IoT solutions worldwide and continues to invest in the development of IoT technologies.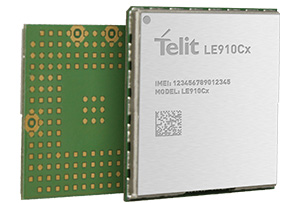 Telit LTE cellular wirelles module
The transaction is expected to be completed in 4Q 2022.
SECTRON will be a distributor of Telit Cinterion modules. You can already contact us at sales@sectron.cz.