Robustel introduced a completely new category of IoT gateway with the computing power on the device's side. This means that data processing and storage take place directly in the device. The new device removes the obstacles that come with the transfer of large amounts of information to the cloud storage, where the data is collected and processed. The relevant information are then sent further to the centralized storage. Thanks to the powerful processor, the new Robustel IoT Smart Edge Gateway processes the data directly in itself and then it sends only the relevant data further.
The EG5120 Gateway is a new generation of industrial gateways with high computing power, which can also be used for building 5G/4G/3G/2G cellular backbone networks. This gateway is equipped with a fully-fledged operating system Debian, which is capable of supporting thousands of existing or new applications based on the ARMv7 architecture (compatible with Raspberry Pi). Compared to previous models, it stands out due to its higher performance, which is ensured by a 1.5 GHz Cortex A53 processor, 2 GB of RAM and 16 GB eMMC flash.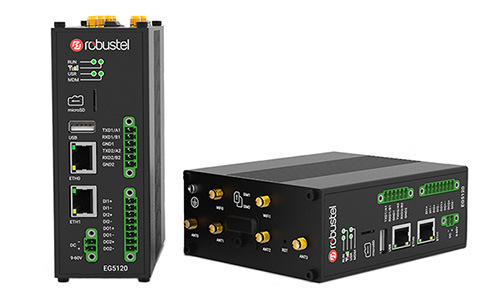 Robustel Router EG5120
The EG5100 router series has a 792 MHz ARM Cortex-A7 processor, 512 MB RAM and 8 GB eMMC flash. It supports the operating system Docker, which provides applications isolation into the so-called containers. Another advantage is the RobustOS Pro operating system, with an unified GUI for easy applications deployment and enhanced cyber security, and also with a myriad of software features including VPN, Smart Roaming, SMS remote control and more.
Another of the Edge computing series is the LG5100 gateway, which is the same as the EG5100. It works not only on 4G/3G/2G networks, but also on global frequencies for LoRaWAN networks.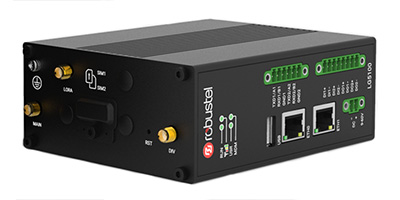 Robustel Router EG5100
The EG5120, EG5100 and LG5100 routers have two SIM cards slots, so safe operation is ensured even if one of them fails. They can be connected to the free RCMS service, which enables remote management, monitoring and diagnostics of network devices and thereby minimizes operating costs.
Key Features of Robustel Edge:
• Use of a highly stable mobile connection for global coverage
• Top 5G interface (for EG5120)
• Bluetooth connection (compatible with Bluetooth 5.3)
• 2x RS232/RS485 ports for connection to industrial devices
• 2x DI and 2x DO simple monitoring and control
• Two SIM card slots for more back-up communication options
• Wide operating temperature range, ideal for industrial applications
• It supports C, C++, Java, Python and it gives the users the ability to develop their own applications
• Access to over 50,000 applications from the Debian data warehouse
• Access to VPN options such as Wireguard, IPsec and OpenVpn
• Modbus TCP and RTU to support transmission to cloud platforms
• Robustel's RCMS platform for effective remote management of a larger number of devices
Products from the new IoT gateway category will soon be on sale. If you have any questions, please contact us at sales@sectron.cz.