Olife Energy Wallbox AC 22kW - SMART - twist cable Type 2, length
4 m

OlifeEnergy WallBox SMART is an AC charging station with a twisted cable Type 2, which is designed for charging all types of electric cars on the EU market with alternating current. It charges up to 22 kW. It can be mounted on a wall (wallbox) or on a profile that is anchored to the ground (mount field). Thanks to the degree of protection IP54, it is durable and suitable for outdoor use and installation in indoor spaces such as garages.

Compared to the Base model, the SMART Wallbox has advanced features such as support for the OlifeEnergy Cloud service and the OCPP protocol. It also provides remote communication (LAN, GSM), station diagnostics, power control of multiple stations, charging monitoring and control using RFID chips and the OlifeEnergy mobile application. The power of the station can be controlled in the range of 0 - 22 kW by a local unit. The station is equipped with protection against electric current overload.

The total power consumption of the station can be dynamically regulated using the external module OlifeEnergy SmartMeter. SmartMeter is a device that ensures optimal use of the capacity of the electrical connection by measuring the current consumption of the Wallbox or its sub-circuit and evaluating the available power consumption for the OlifeEnergy charging station. The station then regulates the charging current according to the available power input.

This WallBox is equipped with a socket and a twisted cable Type 2 (Mennekes), which is 4 m long.

The input power cable must be preceded by a type B circuit breaker, with a max. Tripping value of 32 A and a Residual Current protective Device type A, with a max. rated current 40 A.


Specification WallBox SMART:
• Outputconnector: Type 2
• Output power : 0-22 kW
• Control: local - automatic or RFID
• Residual protection: rezidual DC current detection (IEC 62955)
• Max. input current : 0-32 A
• Communication: OlifeEnergy Cloud, OCPP 1.6/2.0
• Data connection: Ethernet, USB (GSM, Wi-Fi)
• Input voltage: 3x400 V
• IP rating: IP54
• Operating temperature: od -25 do 40 °C
• Operating humidity: od 5 % do 95 %
• Weight: 10 kg
• Dimensions: 266 × 320 × 120 mm
• Ordering code: T2K
SERVICES OLIFEENERGY CLOUD
OlifeEnergy Cloud is a platform for remote monitoring, management and clients charging. User is provided withthe access to information about his charging station and it's setting through web interface. The platform offersmultiple services which can be combined. OlifeEnergy Cloud is supported only by SMART version of Olifechargers.
Remote

monitoring
Basic service for remote communication with the charging station. The user is informed about status and energy
consumption including history data.Thanks to remote access the OlifeEnergy center can easily diagnose possible
problem, in most cases it is even possible to adjust the issue remotely. SIM card for GSM module is includedin the package.
Payment system
This service allows the OlifeEnergy charging station owner to define the fee for station operation. Cost of transaction
fee is added to each charging session price paid by charging station user.
Access control
This service allows management of users allowed to use the OlifeEnergy charging station. The charger can appear as a public
charging station in OlifeEnergy Net map of chargers, or it can be visible only to a certain group of users. A List of all
individual charging sessions (user, time and consumed energy) data is available for the charging station owner with this service.
Power control
A Load-Balancing service for advanced control of the charging station. If there is not enough power to charge the E.V., or
E.V. fleet, consumption of the charging station(s) can be controlled based on specific maximum withdraw limit (weak grid) or dynamically (based on maximum consumption of the building in a certain time frame). Overall the Power control service brings savings for reducing building main circuit breaker tariff or maximum reserved power payments, it also prevents possible penalties for overstepping maximum quarter-hour power withdraw limits.
OlifeEnergy WallBox is offered in BASE and SMART variants. The comparison of both variants is in the table below.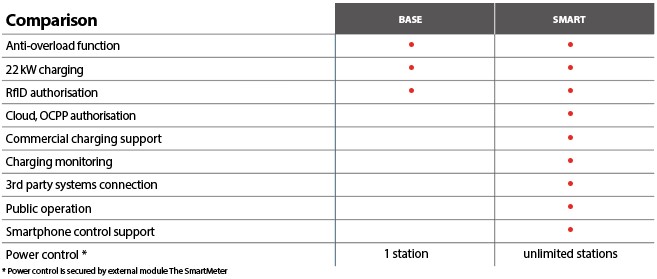 Technical parameters can be found in the attached datasheet.