Nowadays, industrial
routers

are relatively unknown among ordinary users. These

routers

are often referred to as

M2M

routers

. They are typically used to control data communications in industrial applications where they can be used, for example, for

monitoring

, remote configuration and diagnostics.

However, some devices deserve the attention of ordinary users, especially when the purchase price is in a range similar to that of home routers. The fact is that industrial routers are far superior to domestic routers. Let's briefly discuss these advantages.

For industrial use, cellular routers are very often used and allow a combination of both WAN and cellular WAN via 2G / 3G and LTE. This will allow you to connect via a mobile network even from locations where coverage is not yet available from your local Internet provider. It also uses a combined connection, where the mobile network serves as a backup, when the local provider fails, the Internet does not shut down completely, but the router connects to the mobile operator's data network.

Industrial routers are more robust, manufactured for high durability, reliability and longevity. It offers the possibility of remote administration, remote administration via SMS commands, device status monitoring, network data flow monitoring etc. Common user can freely set the data connection type and limit data throughput in the network by switching to 2G mode only to minimum or use high-speed LTE connection.

An example of the aforementioned industrial router is the RUT950 model from Teltonika, a Lithuanian company that primarily focuses on the design of M2M industrial routers. Their products are distributed worldwide and can be found in a wide variety of solutions.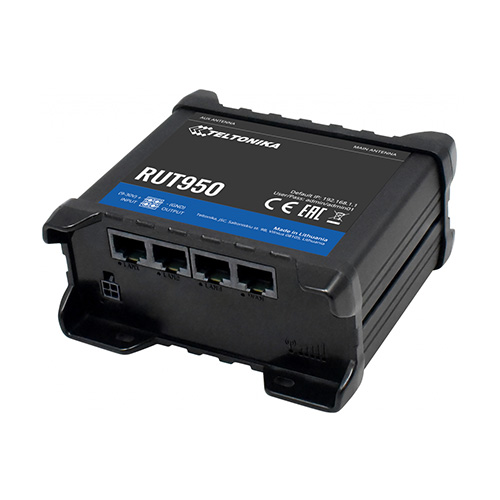 A closer introduction of the Teltonika RUT950

router

is presented in our review.
Teltonika RUT950 is a category 4 LTE router, which means that it offers download speeds of up to 150 MB/s. The router is designed to use two SIM cards, where one can serve as a backup in case of failure of one of the operators. The second SIM can also be activated if the first one runs out of data packet or when roaming, where some of the operators do not have sufficient coverage in the area.
The Teltonika router has 4 Ethernet ports 1× WAN port and 3× LAN port. In addition, the Teltonika RUT950 is equipped with Wi-Fi that operates in the 2.4 GHz band. Wi-Fi features 2×2 MIMO technology for a rapid increase in bit rate. The software capabilities of this router are very complex. The main advantages of the RUT950 software include SMS administration, device restart time settings, remote configuration, captive portal usage and much more.
The necessary antennas on both LTE and Wi-Fi are included and are easily removable. They are connected to the device itself using external SMA connectors. If installed in a place where the signal is very poor, more profitable directional antennas can be purchased. A little thing that might please you, is also the SIM card tray ejector tool, known from mobile phone accessories.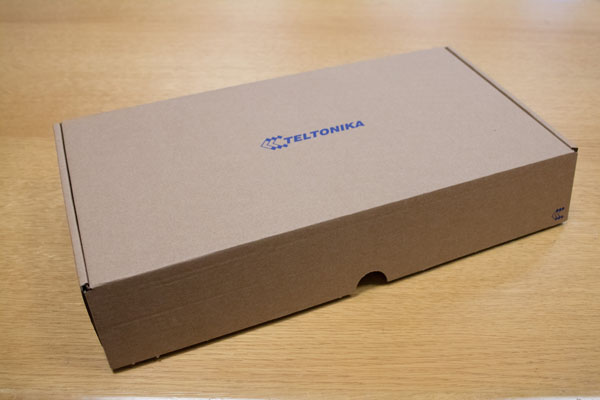 Package of Teltonika RUT950 router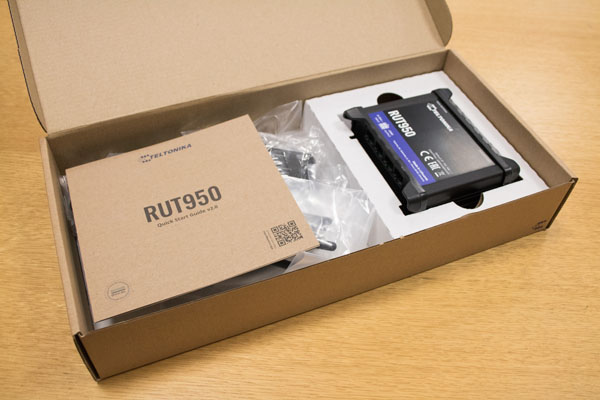 Package contents after opening the box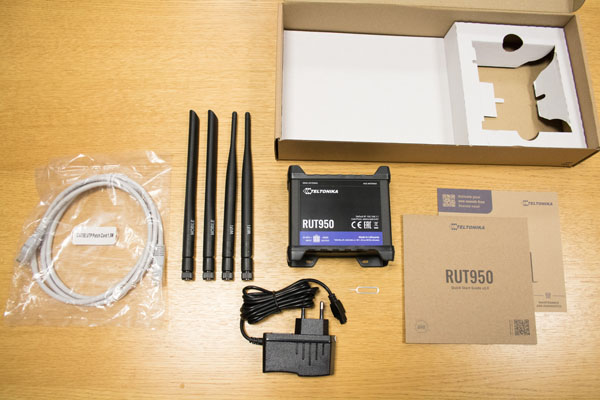 Contents of the box after unpacking
In the original packaging you will find:
1× Teltonika RUT950 Router
2× LTE antenna
2× Wi-Fi antenna
1× Power supply
1× Network cable with RJ45 connectors
1× Quick Start Manual
1× Pin to pull out SIM card and reset router (ejector tool)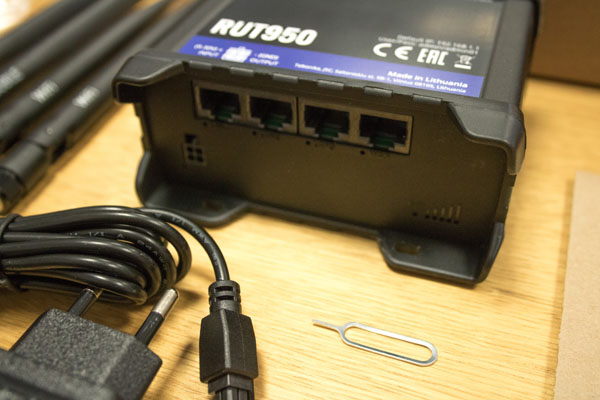 The package also includes a SIMcard tray ejector tool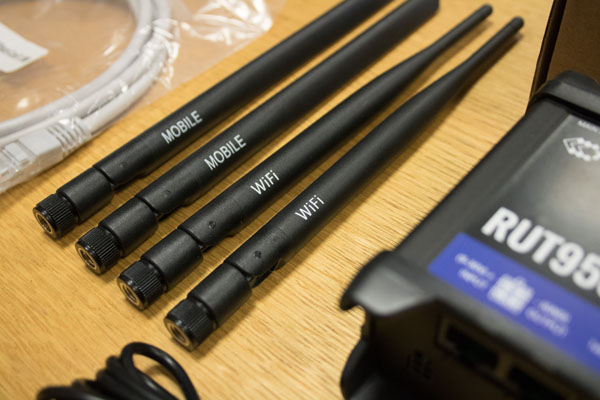 The supplied antennas have labels. You don't have to where it belongs to.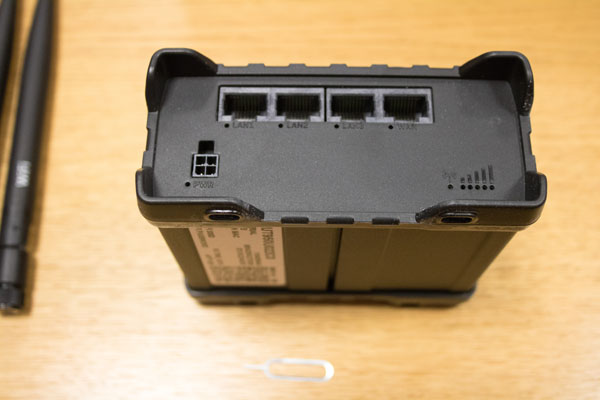 Do you need to connect more computers, do you want to have a quality and fast connection? A router is a gateway to the Internet for all devices on your home or business network. It allows the connection of multiple computers and devices to one local network (one internet connection). Routers are usually wired, which connect to the Internet and the internal network using an Ethernet cable. And cellular routers, which have the ability to use the network of the mobile operator.