Robustel Cloud Manager Service (RCMS) is a modular cloud software IoT platform, which is designed for cooperation with the RobustOS operating system. Compatible with all Robustel products, it provides the maximum range of functions in status and location monitoring, management (remote router setup) and device diagnostics. The router sends its statuses in the interval set by you, if the connection is interrupted or the router fails completely, the cause of the failure can be determined using diagnostics.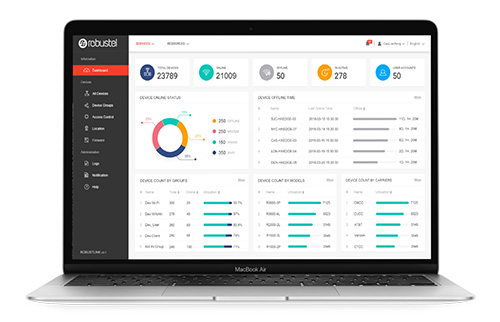 RCMS allows you to remotely install applications on your network devices, create new features, and remotely manage your devices from anywhere with Internet access. Remote administration is enabled without the need for a public IP address, it behaves similarly to a VPN service.
Robustel offers a free Advanced license (full version) for each newly connected RCMS device, which is valid for 3 months. Customers have the opportunity to try out all the advanced features of RCMS management, just create a free account at https://rcms-cloud.robustel.net. 
After the end of the three-month free trial, we offer to purchase a license on our e-shop.

This offer only applies to devices that have never been registered. Devices that have already been registered will not be granted a free license.
SECTRON is an authorized distributor of the Robustel brand. We offer quality technical support for each device purchased. If you have any questions, contact us at sales@sectron.cz.