Lately, more and more people are choosing electric cars as their main means of transportation. One of the biggest factors that affect the comfort and efficiency of an electric car is its charging. Charging an electric car at home offers many advantages, including convenience, low costs and practicality.
One of the biggest advantages of charging an electric car at home in the garage is the convenience. You don't have to look for a public charging station, which can be a big problem especially in busy cities. You only have to buy a home charging station for electric cars. A wallbox is a modern and convenient solution for charging an electric car. It is a charging station which is installed on the wall in the garage or placed on a post near your parking spot. A wallbox offers fast and safe charging of an electric car directly from your home electrical network.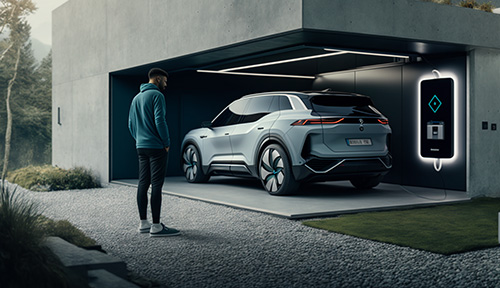 The practicality of charging is that you simply connect the cable of the charging station to your electric car and let the vehicle be charged overnight or during the day when it is not in use. This allows you to always have a fully charged electric car, which is very useful if you have a planned trip to be done and need to drive long distances.
You can also easily charge your vehicle in the garage by purchasing a smart portable charging station. The portable charging station also allows you to charge the electric car on the go. Just pack it up in the trunk of the car.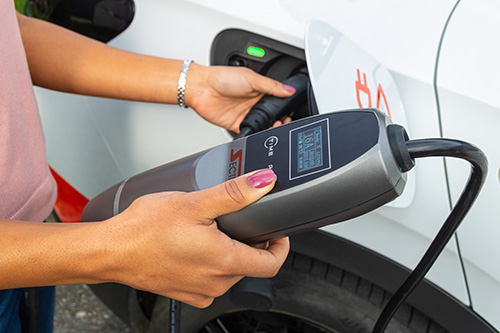 Another advantage of charging electric cars at home in the garage is the low costs. The price of charging electric cars if you charge at home is much lower than the price at a public charging station.
Currently, the connection of photovoltaics with electromobility is in great demand. Photovoltaic plants are increasing its popularity due to their cost-effectiveness and ability to access energy regardless of the current electricity supplier. You can use the existing infrastructure and charge your electric car directly from renewable energy sources for free. PV plants can be placed on the roof of the house.
Smart charging of an electric car in a garage is also safer than charging at a public charging station. Electric car owners can have their vehicles under control and be sure that charging is going perfectly.
You can purchase charging stations for electric cars on our e-shop, where we offer a portable charger (smart car charger) or wallboxes from the Czech manufacturers OlifeEnergy and MyBox. You can also choose electromobility accessories, such as charging cables and adapters.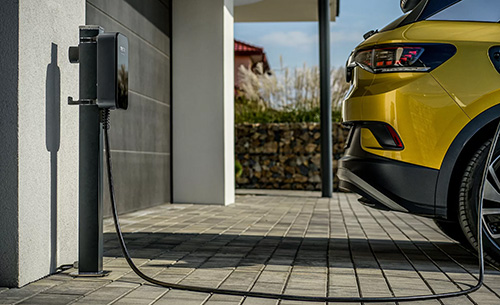 Are you interested in charging electric cars and need advice on choosing a charging station for electric cars? Contact us at sales@sectron.cz or at +420 556 621 020.