A quality and reliable internet connection is crucial for work, entertainment and communication. That's why it's important to have at your disposal a technology, which allows you to improve and optimise the range and performance of your WiFi network.
In this article, we will introduce the Teltonika TAP100 Access Point as an innovative device, that provides a solution to improve WiFi network coverage in business premises.
Key points
Every coffee bar needs reliable WiFi to provide the customers a pleasant sit-down and to be successful. Therefore, a reliable and high-quality internet connection is a crucial factor for the success of such an establishment. However, ensuring full wireless coverage in all rooms can be difficult and also costly.
Teltonika Networks' new TAP100 Access Point improves Wi-Fi coverage by transmitting a wireless signal to a defined area.
Other key features of this Access Point include PoE-in capability, easy configuration of operation rules and multiple SSIDs, as well as a special design designed to meet the needs of enterprise and commercial spaces.
Challenge
Many factors play an important role in a successful coffee bar, such as great coffee, comfortable chairs and a cozy environment. A reliable and high quality Wi-Fi is also one of the key elements. Every corner of the café should have faultless Wi-Fi coverage, no matter how the space is laid out. In practice, this means that in an average café, one router is not always enough to cover the WiFi signal.
The problem is that additional routers are not just a financial issue, (although router prices are a very important factor to consider) but also a matter of complexity. Each additional router would have to have configured network rules and a LAN set up, not to mention additional cabling. For café owners, the simplest and most convenient solution is to choose Wi-Fi access points rather than additional routers.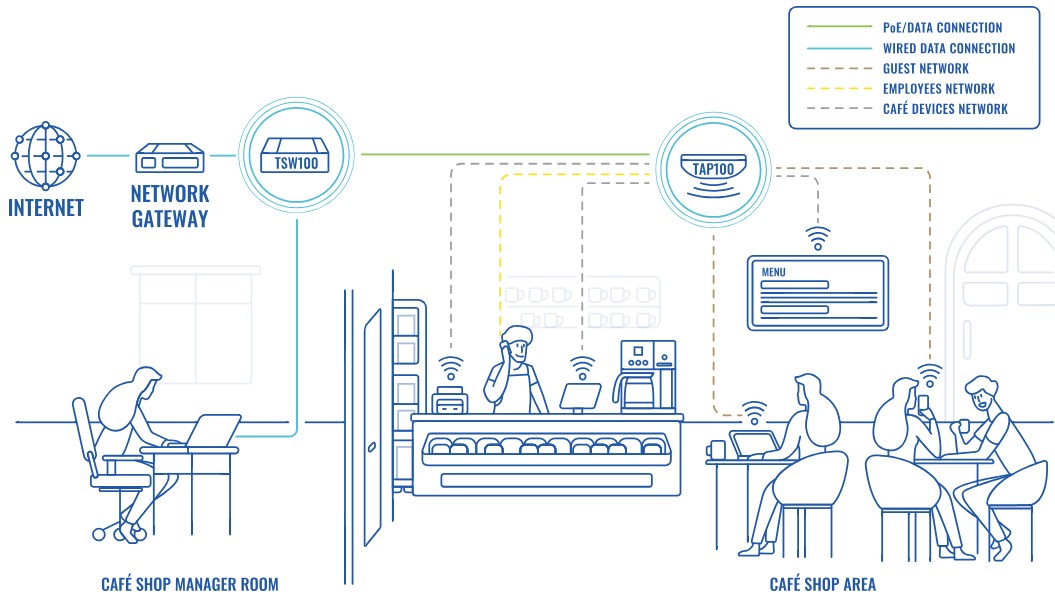 A diagram of how to use the TAP100 Access Point in a café
The TAP100 Access Point, the first in Teltonika Networks' product portfolio, is ideal for example for small cafés that need reliable, full-coverage wireless connectivity without complicatedness and high cost. The TAP100 Access Point is a device that is connected to a router or gateway via a wired Ethernet connection and projects Wi-Fi signal into a designated area.
The Teltonika TAP100 Access Point improves Wi-Fi coverage in the café using two internal omnidirectional antennas, ensuring that no area of the café is left uncovered. The device provides speed of up to 100 Mbps, which is more than sufficient for a café with around 30 guests who need to work over a good cup of coffee.
Thanks to the PoE-in function, the TAP100 Access Point can be powered directly from a network device that provides it with a data connection via Ethernet. It can be an active PoE-enabled device, such as a Teltonika Networks TSW100 PoE+ industrial router, or any network device with a PoE injector. This eliminates the need for additional power supplies and cables and it also reduces the setup complexity.
The TAP100 Access Point does not look like a typical network device because it was not designed to be placed in a box or cabinet. It is designed for placement in commercial spaces, it blends in with its surroundings, and it is easy to install thanks to an integrated bracket for easy ceiling mounting. The plastic housing, stabilized against UV radiation, ensures that the device retains its colour even in continuous direct sunlight. As a result, cafés can enjoy industrial-grade connectivity without disrupting interiors.
Ultimately, this Access Point was designed with convenience and functionality in mind. Its operation rules can be easily configured and it can create separate networks for guests, employees and other devices using multiple SSIDs. This is crucial for cafés, as it is not desirable for guests to have random access to your devices or data.
Do you have a specific requirement and don't know if the Access Point TAP100 meets it? Contact our company SECTRON, we will be happy to advise you.