The automation of work processes in warehouses is becoming the wave of the future. The situation becomes difficult if warehouses are located in areas with poor network signal and the packaging lines are dependent on fast data transmission. The solution to this problem is the RUTX50 - it is Teltonika's first router that is equipped with ' >5G technology and enables ultra-fast data transfer in real time. The router provides ultra-low latency and internet speeds of up to 3.3 Gbps per port, as well as dual-band Wi-Fi support. In addition, the RUTX50 has advanced security features built into the RutOs operating system and it is compatible with the Remote Management System (RMS), which ensures easy monitoring capabilities of the entire solution. This way the automation can work efficiently, safely and flawlessly.
The RUTX50 is an ideal solution for ensuring the successful functioning of a warehouse. If you are looking for a way to provide a fast and reliable network connection for your entire warehouse, then the RUTX50 5G router is the best choice. This is particularly important on a packaging line where machines depend on continuous synergy. If during the process an error occurs, the RUTX50 immediately alerts the monitoring systems about the situation and stops the entire line until the error is corrected.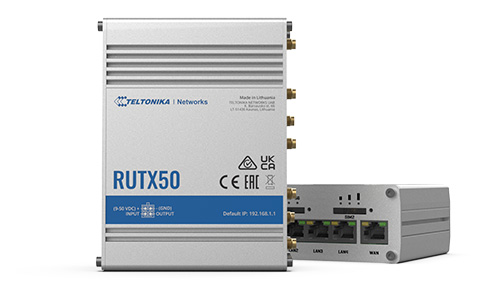 The Teltonika RUTX50 is designed to provide robust data throughput and fast Internet connectivity, which is important especially in areas where the availability of high-speed connections is limited. With the support of the ' >5G technology, this router is capable of providing the speed of up to 3.3 Gbps and it ensures that all data is transferred with minimal latency in the order of milliseconds.
The RUTX50 router is equipped with dual-band Wi-Fi and 5 Gigabit Ethernet ports allowing all devices in every warehouse to connect to a robust and reliable Internet connection. Thanks to the adaptive modulation of the ' >5G technology and various coding schemes, the network error rate is extremely low, while the signal range is wider than ever before.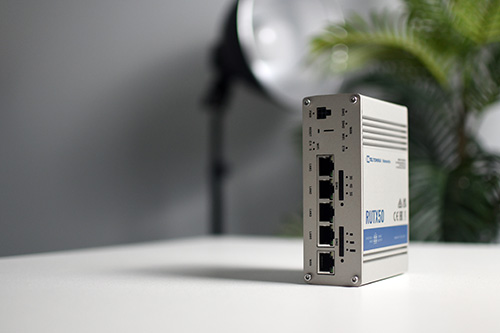 With this router automated workflows, that utilize ' >5G technology and provide unprecedented levels of efficiency, can be used. With the RUTX50 this level becomes a reality, safely and flawlessly. If you are looking for a way to optimize your warehouse processes, the RUTX50 5G router is the best choice.
Do you have a specific requirement and you're not sure if a particular RUTX50 router meets it? Contact us, we will be glad to advise you. Reach us at our hotline.