The company SECTRON s.r.o has prepared for you a comparison of competing industrial LTE routers of the best quality. We tried to choose products that are substitutable for their functions and technologies. In this comparison, we will introduce the routers of the world brands Advantech, Robustel and Teltonika.
Advantech LTE router SmartStart
SmartStart is a high-performance industrial LTE router in a robust plastic housing that enables wireless communication within LTE Cat.4, HSPA +, UMTS, EDGE / GPRS networks. It is an ideal solution for wireless connection of traffic or security camera systems, computers, LAN networks, ATMs and other self-service terminals.
Key Features:
• LTE Cat.4, HSPA +, UMTS, EDGE / GPRS
• 1x Ethernet, RJ45, 10/100 Mbps, 1.5 kV
• 1x RS232 port - DB9 Female
• Supported network protocols IPv4, IPv6, PPP, PPPoE, SNMP v1 / v2c / v3, TCP, UDP, DHCP, ICMP, NAT, HTTP, HTTPs, DNS, ARP, NTP, SMTP, Telnet, VLAN, SSH, DDNS, Telnet , MQTT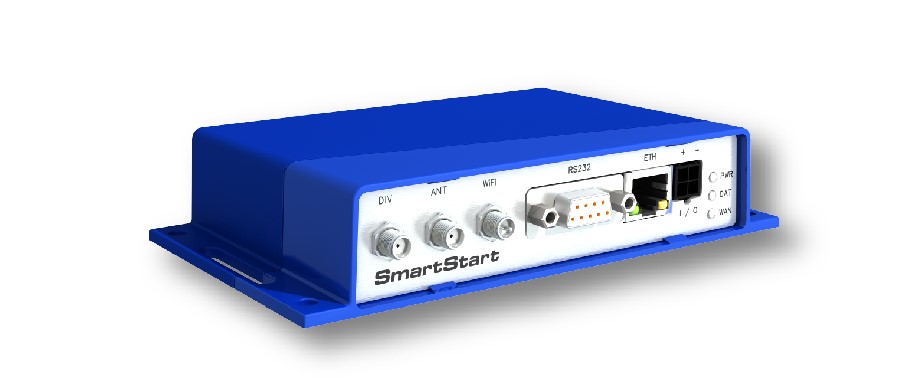 Advantech LTE router SmartFlex 
The high-performance industrial LTE router SmartFlex is designed for wireless communication in mobile data networks. This router is an ideal solution for specialized M2M and IoT devices. This model is equipped with, for example, a WiFi module, 2x Ethernet port with PoE support.
Key Features:
• LTE Cat.3, 3G/HSPA+, GPRS/EDGE, EMEA, LTE B1, B3, B7, B8, B20
• 2x Ethernet port with support of PoE
• 5x ETH, PSE PoE+, PoE+ IEEE 802.3at & 802.3af on 2x ETH
• WiFi 2,4/5 GHz, GPS, USB, I/O 2x DI + 1x DO, MicroSD
• Advanced network settings, diagnostics, VPN support, firewall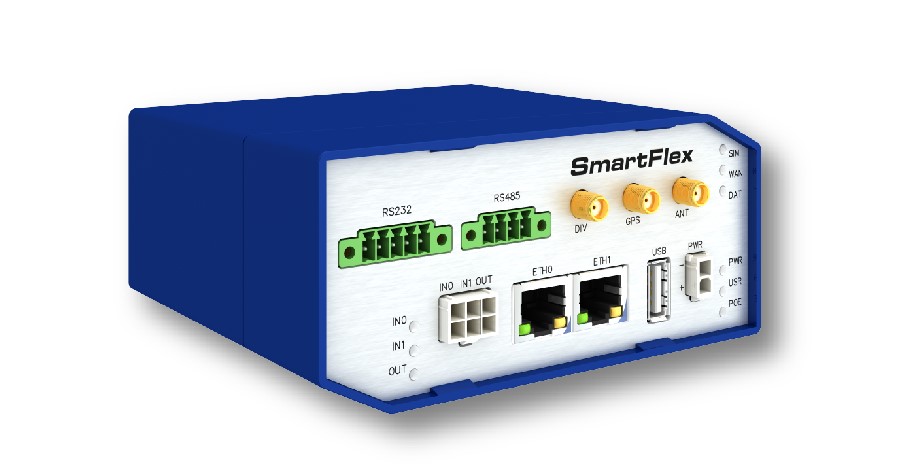 Robustel LTE Router R2110-4L 
The R2110-4L is a robust LTE router that offers state-of-the-art mobile connectivity for Internet applications. The R2110, like all Robustel devices, includes RobustOS, an operating system based on Linux that makes it easy to implement and develop for your applications. The R2110 comes with a complete SDK and full application support for larger projects. The advantage of the Robustel device is the connection to the integrated cloud system called RCMS (Robustel Cloud Manager Service). The router has a large number of functions and ports that are crucial for industrial applications, so it can compete with the SMARTFLEX model at a very affordable price. In addition, it includes a function for connecting external sensors that support BLE (Bluetooth low energy) technology. These are accelerometers, temperature sensors, smoke, motion, etc.
Key Features:
• 802.11ac Wave1 dual 2.4G & 5GHz, GNSS GPS, GLONASS, BeiDou, Galileo
• POE
• RS485 a RS232
• Support of WWAN, WAN, WLAN backup a ICMP detection
• RobustOS + SDK + App
• IPsec, OpenVPN, GRE
Robustel LTE Router R3000-4L 
R3000-4L is an industrial Dual SIM router with 4G FDD LTE transmission technology, 2x Ethernet interface and web administration interface. R3000-4L provides fast wireless connectivity to M2M and IoT applications.
Key Features:
• Dual SIM redundancy for continuous mobile connection, support of 2G / 3G / 4G
• VPN tunnel: IPSec, OpenVPN, PPTP, L2TP, GRE
• Modbus gateway (Modbus RTU / ASCII to Modbus TCP)
• Support of GPS and GLONASS (optional), provides real-time location and tracking, 802.11 b / g / n Wi-Fi (optional), AP and client mode, SDK, provides user interface, 802.1Q VLAN frequency, PPPoE Bridge ( IP Passthrough)
• Automatic restart via SMS / Caller ID / Timing
• Support of RobustOS (centralized M2M management platform, remote monitor, configuration and firmware update) and RobustVPN (Cloud VPN Portal, which allows easy and secure remote access for PLCs and machines)
• Interface: RS232, RS485, USB, Ethernet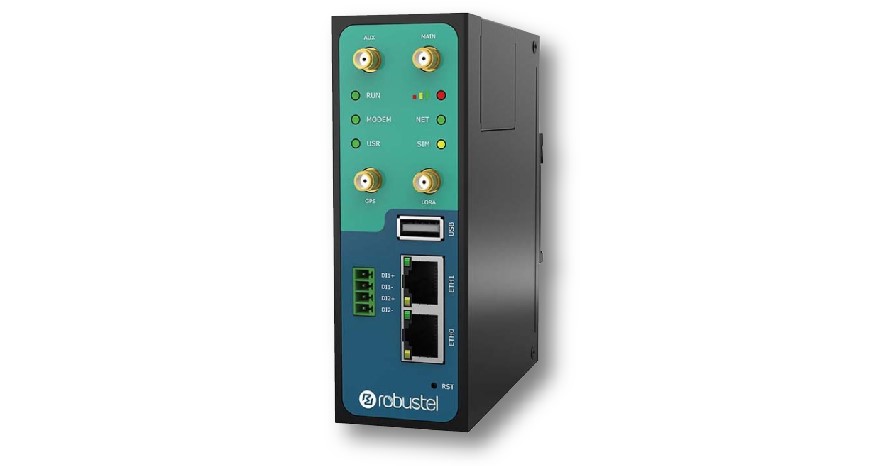 Teltonika LTE Router RUT955 
Designed for 4G / LTE CAT4 Wi-Fi technology, the RUT955 router is highly reliable and secure in combination with GPS navigation. Another advantage is RS232 / RS485 serial ports, which are widely used in professional industrial applications. The RUT955 supports Dual-SIM failover in case of SIM card and WAN. This is the cheapest variant of the compared products, but from the point of view of the services offered, the RUT955 model certainly does not lag behind. In addition to each Teltonika device, you can purchase a very clear and useful Teltonika RMS cloud service, which offers remote diagnostics, options to change settings, monitor network devices, transferred data, availability, location and much more.
Key Features:
• LTE Cat 4 to 150 Mbps support
• Serial communication RS232, RS485
• TCP Modbus, Modbus Serial Master (RTU), Modbus ASCII
• Multiple inputs / outputs for remote monitoring and control
• Teltonika Remote Management System