The implementation of new technologies called Industry 4.0 and the shortage of workers in perhaps all fields laid the foundation for growing automation, which means a revolution in production.

Automation provides a number of benefits: it helps eliminate human error, increases productivity, reduces costs, and retrieves data that can then be used for future optimizations. These are the main reasons why the global volume of the industrial automation market is growing exponentially.
The purpose of automated IoT solutions is machines and equipment connected into one functioning system. All processes can then be further streamlined and optimized by implementing changes based on the collected data. The prerequisite is a reliable and secure Internet connection, which enables the communication between devices in real-time and ensures remote monitoring and management of smart factory systems. Specialized network infrastructure is required at such large workplaces. The usual connectivity solution would not be enough to cover such large areas.
The solution is to install several Ethernet routers, which will naturally cover the entire area of operation with the required signal strength and ensure a trouble-free operation of all computers and machines. While setting up a single router doesn't take much time, configuring multiple routers to create a secure network can become a time-consuming and energy-intensive project.
Therefore, a more suitable solution is to create a Wi-Fi network of the Mesh type using Teltonika RUTX10 routers, where one is connected to Ethernet and the others then share connectivity wirelessly. Setting up these routers is not difficult at all, and you can even do it in groups using the Teltonika RMS system. The 802.11s standard available in RutOS allows you to connect various wireless devices without setting up complex infrastructure. All you have to do is configure one router and apply the same settings to the rest of the network through a user-friendly web interface. In addition, if a node in the network disconnects, the Mesh network will replace it with another node and continue the route until the problem is resolved. In this way, network continuity remains uninterrupted and processes can continue without interruption.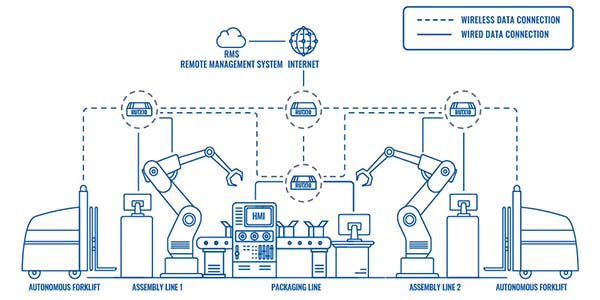 However, the factory topology often includes moving objects (such as autonomous forklifts) that need fast switching between routers when moving within the range of a stronger router. Here we encounter 802.11r (Fast Roaming) standard technology. Thanks to fast roaming, autonomous mobile machines can travel around production halls and quickly switch between routers in the same network.
RUTX10, equipped with dual-band Wi-Fi 5 802.11ac.
• Supports protocols MQTT, Modbus, Bluetooth, DNP3, these protocols are very suitable and used in industry.
• The solution is easily scalable due to the simplicity of the Wi-Fi Mesh configuration.
• Advanced security features, VPN, firewall, access control and more.
• Solutions can be remotely monitored and managed using the Teltonika Networks Remote Management System (RMS).
• The router's industrial aluminium housing ensures that it can withstand harsh environments and offers standard mounting options.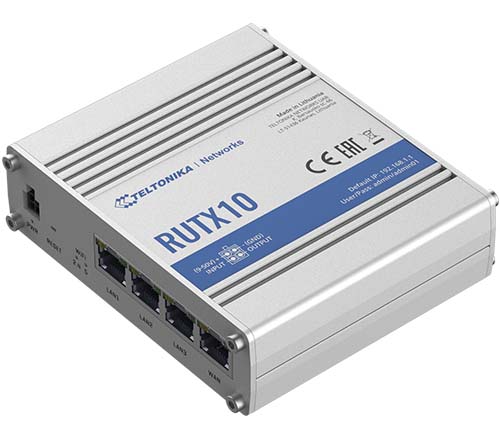 SECTRON s.r.o., which is a GOLD distributor of the hotline@sectron.cz brand, has been operating in the field of wireless technologies for more than 26 years. It does not only provide HW deliveries, but a team of salesmen and technical support is available to clients. If you need advice on your project, do not hesitate to contact hotline@sectron.cz or phone 599 509 599.