Fifth-generation networks are slowly becoming the standard, which is why manufacturers are starting to offer a variety of devices designed specifically for this new technology. One of these manufacturers is the company Robustel, which focuses mainly on industrial routers, modems, but also IoT gateways. 
 
The new line of R5000 routers is therefore fully prepared to provide devices compatible with the new ' >5G technology, which surpasses existing 4G networks in all ways. Compared to previous generations, 5G technology can provide a significant increase in transmission speed in both directions (up to 10x more) and a significant reduction in response time. As a result, the 5G network will allow many devices to work together in one new industrial standard. 
Robustel introduces a new router that supports fifth generation (5G) networks and is designed for less demanding customers. The R5010 router offers a full connection to ' >5G networks with a fallback options for 4G and 3G, and that's not all. The core of the entire router is the RobustOS platform, which is a fully programmable operating system based on Linux. This system contains network functions and protocols that can be conveniently configured according to your needs. It therefore provides customers with excellent user comfort. A novelty is the possibility of using eSIM, so there is no need for a physical SIM card. Due to the absence of additional technologies such as WiFi, GNSS or serial lines, this router is suitable for industrial installations and machine connectivity to a high-speed 5G network. The device fully supports all network protocols together with the most advanced WPA2 security options in combination with AES encryption, and therefore can serve as a cheaper variant of the R5020 device.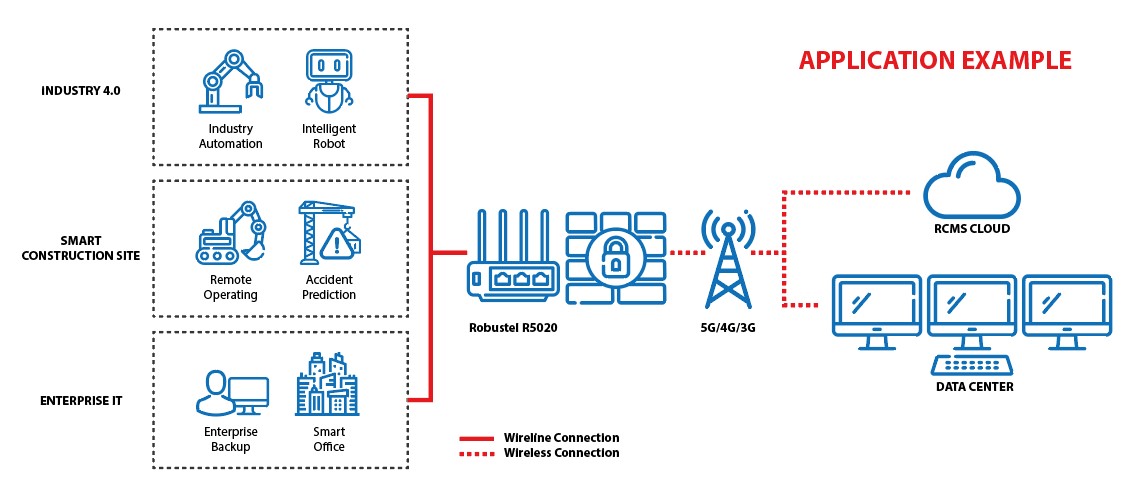 An example of another router from the new 5000 series is the new R5020. This robust device offers state-of-the-art connectivity, and is designed to ensure the best IoT connectivity. 
The key features provided by this device are: support for all generations of mobile networks, the RobustOS system, which also offers a very diverse application extension Smart Reboot, SMART Roaming, Sniffer, DATA-Guard V2, WLAN Multi AP, VRRP advanced services RobustVPN, L2TP, PPTP, DMVPN and more. 
The cellular 5G connection is provided by the Quectel RG500Q module, which is able to operate up to a frequency of 6 GHz. The maximum speed in the downlink direction can be up to 2.5 Gbps, and in the uplink direction it reaches up to 900 Mbps. Of course, the device also supports 4G and 3G networks. Regarding the individual channels of the 5G, the device supports n1 / n2 / n3 / n5 / n7 / n8 / n12 / n20 / n28 / n41 / n66 / n71 / n77 / n78 / n79. 
The device is equipped with many other technologies, such as GNSS positioning or Internet connection sharing using Dual Band - WiFi technology (2.412 - 2.472 / 5.15 - 5.825 GHz). At the speeds offered by ' >5G technology, 4x Gigabit Ethernet ports are also included. The router also supports communication via the RS-232 or RS-485 serial interface. 
Are you interested in R5010 or R5020 routers? Do you have a specific requirement and do not know if a particular router meets it? Contact our company SECTRON, we will be happy to answer your questions.