The first Teltonika router with two independent 4G LTE CA6 modules that work with two SIMs to increase efficiency and transmission speed. The router can thus efficiently divide the data stream into two independently operating modules into several independent transmission channels, thus maximizing the transmission capacity, because the individual segments do not affect/slow down each other. 

LTE router RUTX12 is equipped with a powerful quad-core Quad Core ARM Cortex A7 717 MHz CPU, as well as GPS navigation functions. External SMA antenna connectors enable the connection of GPS, WiFi / Bluetooth antennas.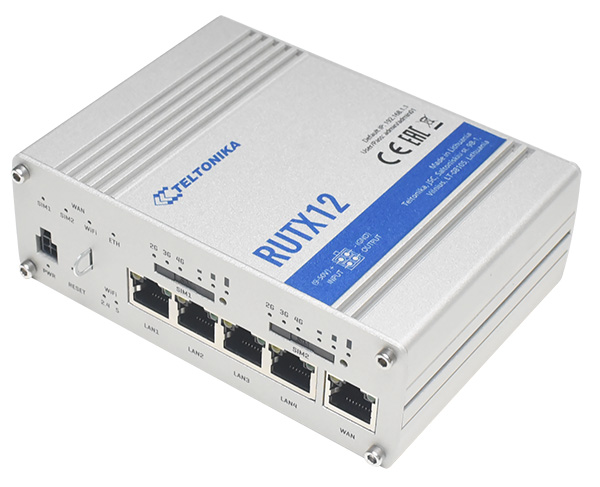 The strong aluminum housing makes this router suitable for use in demanding industrial situations. 
RUTX12 Allows you to optionally select 4G (LTE) or 3G (UMTS) connection type with transfer speeds up to 300 Mbps downlink and 50 Mbps uplink in 4G mode and 42 Mbps download and 5.76 Mbps upload (DC-HSPA+ standard) in mode 3G. The great advantage of this high-speed connection is the possibility of using 5 GB Ethernet ports. The router has two external slots for inserting a SIM card. You can use two different providers to create redundant LTE or 3G connections with instant Failover and Fallback. Alternatively, if the signal from 4G or 3G networks is not available, you can use RUTX12 in DSL mode.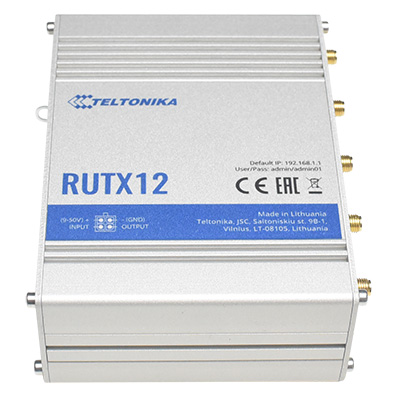 When using both built-in LTE modules simultaneously, the transmission speed can reach  up to 600 Mbps. Among other things, the router supports the Wi-Fi standard 802.11ac (5 GHz) with data transfer speeds of up to 867 Mbps (Dual Band, MU-MIMO). 
Two cellular modules bring other benefits, we can use two different mobile networks simultaneously and in the event of a failure of one of the operators to build a redundant 4G connection, which is able to switch to the other network in an instant so as not to fail. 
The router also offers an easy-to-use, secure and feature-rich RutOS operating system based on OpenWrt. 

You can configure the router using the advanced web interface. If you are looking for a system to manage multiple units that you want to control and monitor remotely, the Teltonika Remote Management System (RMS) is a great tool for remote management of all Teltonika devices. 

Introduction of the RUTX12 router