In practice in corporate networks or in specific projects, we often encounter devices such as SFP converters, switches or routers. The purchase price of these devices is relatively high and by themselves, they take up relatively a lot of space. Teltonika therefore comes up with the new RUTXR1 product, which combines all the mentioned devices into a single device. The product comes in an all-metal design and its advantages include, for example, the option of mounting the device in a server rack, which Teltonika has not yet offered for its existing equipment.
Teltonika RUTXR1 enables connection to the Internet using LTE Cat 6 mobile technology, which supports speeds up to 300 Mb / s, in combination with ETH WAN or SFP WAN. The big advantage is the ability to use the Dual-SIM function. This feature allows backup in the event of a failure of one of your Internet Service Providers (ISPs). Features such as Auto Failover, WAN / Wi-Fi Backup and more are supported. Thanks to the variety of connections combined with the option of connecting to a backup power supply, this router is becoming one of the most reliable routers on the market.The device also has 5x 1000 Mbps Ethernet ports with WAN capability. The connection of 1000 Mbps also allows the SFP port, which, however, cannot be combined with the WAN port. RUTXR1 is also equipped with a USB port, a serial line RS232 with an RJ45 port, through which the device can be controlled.



Of course, there is also the option of wireless connection using the 802.11ac standard, known as WiFi 5 with MU-MIMO support, this standard operates in the 2.4 and 5 GHz bands and provides a maximum speed of up to 867 Mb / s. A novelty is also the possibility of using dual power supply, which allows power backup in the form of, for example, a backup battery. However, the device does not support PoE. We can find support for almost all network protocols here, another novelty is the support of the VLAN protocol. Firewall, protection against attacks, and of course VPN. RUTXR1 also supports the MQTT protocol or various monitoring platforms together with the manufacturer's RMS system. Remote administration can be solved via a secure SSH protocol, or using the RMS system itself. The device therefore supports not only almost everything that is used in companies today, but also in the industry. RUTXR1 is powered by a powerful four-core ARM Cortex A7 processor, 717 MHz, which in combination with 256 MB DDR3 + 256 MB SPI Flash memory and RutOS operating system based on OpenWrt - Linux offers sufficient performance for all applications. In terms of connector equipment, there are 2x SMA (LTE), 2x RP-SMA (Wi-Fi) connectors.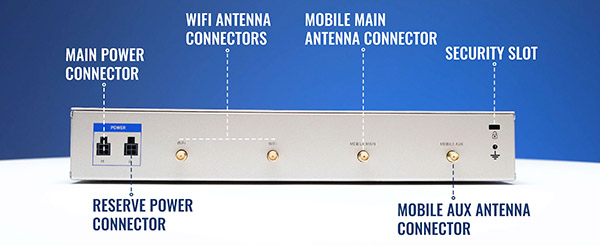 An example of the use of this device may be a situation where the customer still requires an Internet connection with a backup in the event of an Internet outage. In the case of an optical connection, it is sufficient to use the SFP port without the need for additional devices. Using WiFi or Ethernet ports, the customer has the option of connecting a number of devices. If the need rises to separate the traffic, for example for various company departments, it also has the option of using a VLAN. RUTXR1 can take care of remote management using RMS or use a serial line for configuration.
Interested in router RUTXR1? Do you have a specific requirement and do not know if this router meets it? Contact our company SECTRON, we will be happy to advise you.