We confirmed our qualification and once again won the TELTONIKA GOLD PARTNER award.
Starting on March 22, we are reducing the prices of Teltonika products by 7 %!
Teltonika Gold Partner is an award from Teltonika Networks, which annually awards its partners with the best sales results and support of the Teltonika product line in the given market. At SECTRON, we are honored to have won this award for the third time in a row. As a thank you to our clients, we have prepared special price discounts for Teltonika products, making them all about 7 % lower than before.
We have long recommended Teltonika devices to our customers for their reliability and ease of deployment in wireless infrastructure. Very popular products are RUT240 and RUT955. The most common target segment of these routers is electromobility, especially their use in charging stations.
The TELTONIKA GOLD PARTNER 2021 award deepens our commitment to be a good partner for the Teltonika brand and not to slow down in our customer support. Our personal approach and technical support also serve as an added value for every project.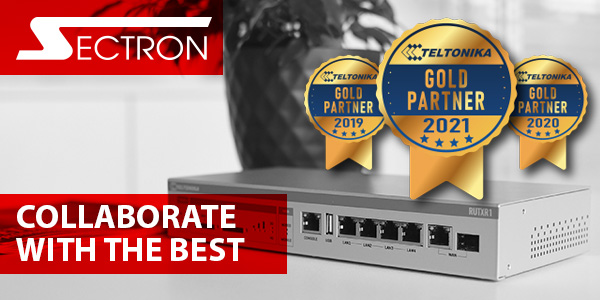 About Teltonika
Teltonika Networks has been operating in the field of industrial network elements and the Internet of Things (IoT) for more than 22 years. Teltonika has already connected 13 million devices worldwide and continues to reach other milestones. It strives for innovations, it is inspired by real life situations, connects partner solutions, provides partner training and thus guarantees a stable partnership to its clients. Teltonika supplies a wide range of products that can be used in the world of IoT. It specializes in network products, which are industrial routers operating in 2G, 3G and LTE networks.
Visitour website and choose the best solution for your project

:

• 3G Teltonika Routers
• 4G Teltonika Routers
• Industrial Router Rental

Formore information, contact the sales department at sales@sectron.cz ortechnical support at hotline@sectron.cz.