Buying an electric car today is no longer a pioneering adventure. The price of vehicles is going down, the range of vehicles is also changing dramatically thanks to modern technologies in the production industry of batteries. The capacity of batteries, their management, also charging speed increases. Electric cars are starting to enjoy popularity. 
Where is it possible to recharge an electric car?
It is suitable to charge an electric car mainly where it stands for a long time and is not used. Therefore, convenient way to charge is at home overnight, when the car is parked in the parking lot or garage. Useing charging at work during working hours when you do not need a car (if the company is equipped with an AC or DC wallbox) is also way to charge electric car. Another option is public charging points, which are usually paid.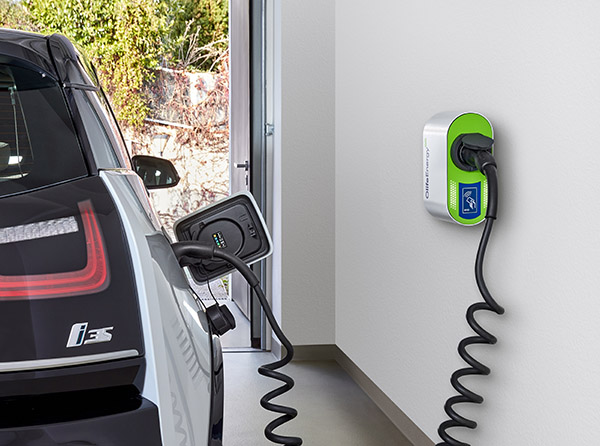 A technically advanced solution for home charging is the wallbox from the manufacturer OlifeEnergy with a modern design and the AC 22 BASE label in combination with the Energy SmartMeter device.
Only charging stations are supported, which have the function of controlling the consumption of electricity when charging the electric vehicle from power distribution network according to the agreed maximum power input. According to the subsidy criteria, we have selected a suitable charging station for you with a wide range of accessories.
Wallbox is a charging station that is designed for charging all types of electric cars on the European market with alternating current (AC). It offers power up to 22 kW. Thanks to the certification IP66, it is durable and suitable for outdoor use and installation in indoor areas such as garages, passages. Can be mounted on a wall or on a stand that is anchored to the ground.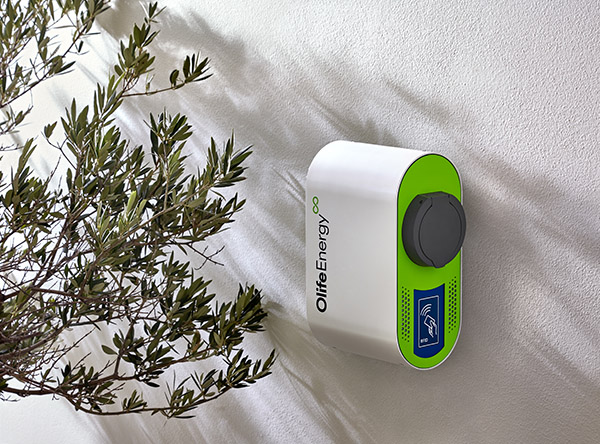 The "BASE" version can work locally. Charging therefore starts automatically as soon as the vehicle is connected or identified by an RFID card. The station is equipped with protection against electric overload.
The total power consumption of the station can be dynamically regulated using the external Energy SmartMeter module. It is a device that ensures optimal use of the capacity of the electrical connection by measuring the current consumption of the wallbox or its sub-circuit and evaluating the available power input for the OlifeEnergy charging station. The station then regulates the charging current according to the available power input. In order to meet the condition of obtaining a subsidy, it is necessary to buy this set.
An optional accessory for the wallbox can then be said stand, which is made of stainless steel. It is also possible to select a wallbox including a Type2 Mennekes cable, or to select a twisted Type2 Mennekes cable. Energy wallbox can also be purchased in the SMART version and it is an extension of the basic wallbox with the following functions: OlifeEnergy Cloud and OCPP protocol support, remote communication via LAN, GSM, station diagnostics, charging monitoring and RFID chip control, last but not least mobile OlifeEnergy application.