Have you heard of the Helium network?
Helium is a novelty in the field of wireless communication, it connects IoT networks and increasingly discussed cryptocurrencies. In short, Helium IoT is a network that is used to connect sensors and monitoring devices in order to measure a variety of variables from air quality, calculating the occupancy of parking lots to animal tracking, monitoring the movement and condition of things and much more.

In February 2021, there were 17,500 devices worldwide. At the end of February 2022, there are currently 587,000 hotspots. These numbers speak for themselves. Helium is the fastest growing lossless user network in the world.
How does the Helium network work?
This network consists of gateways and so-called hotspots, which are interconnected by the Internet and also connect individual IoT devices in the network. A significant part of the idea of Helium is based on LoRa technology, which is particularly suitable for this type of network. In addition, it significantly saves battery, is free and, thanks to its radio properties, ensures a long range. LoRa provides the connection between the devices and the individual gateways, provides coverage in The People's Network and at the same time for the mining of the cryptocurrency Helium. The gateways themselves are then connected to the Internet worldwide. Such a gateway is installed by people who are rewarded, for expanding the network, in the form of a cryptocurrency HNT - Helium Network Token.
What is HNT?
It is an abbreviation for a cryptocurrency called Helium Network Token. As with some other cryptocurrencies, there is an opportunity to benefit from HNT. Mining operations involve two main tasks – connectivity validation and transferring data from IoT sensors.
How to mine Helium?
The extraction of this currency is performed by the gateway itself by validating the connectivity and ensuring the transmission of data, for example, from individual sensors. Profit increases, in proportion to the growing coverage area. We are able to increase this area by connecting a suitable antenna (or directional antenna) with high gain and a suitable radiation pattern.
You need special hardware called Helium hotspot. The better your equipment, the more efficient your investment will be, because you will achieve more connections and therefore higher earnings.
How to choose a suitable antenna and where to place it?
The choice of the antenna depends on the location of the device and where users and other hotspot providers are concentrated. General tips for placing the antenna are located at the highest point, preferably with a clear view of the surroundings.
When buying an antenna, look for the key parameters: gain and VSWR. Narrowband antennas operating at 868 MHz are the most efficient for these devices. If you are choosing a suitable antenna, take a look at our antenna category.
To achieve a longer action distance between the devices, it is necessary to choose one of the outdoor antennas, which you can mount in elevated places, eg mast, roof of the building. From our offer we recommend these antennas AO-ALTE-XL7025-15, AO-ALTE-OM58. To connect the antenna to a device with an RP-SMA female connector (eg Bobcat Miner 300), it is necessary to purchase an AO-SMAF-SMR connector reducer. In the case of a larger number of antennas, we will adjust the antenna connector to suit your production.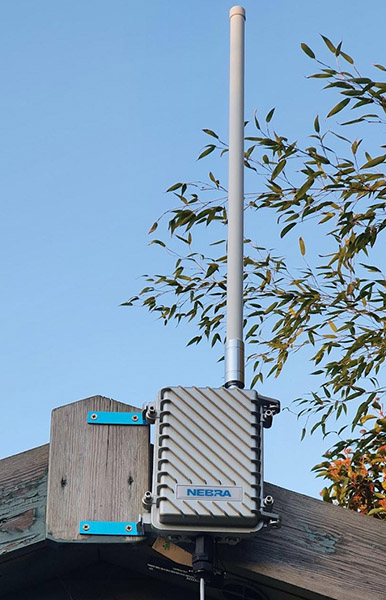 Photo source: https://www.heliummining.info/
If you have any questions, do not hesitate to contact us by phone or email sales@sectron.cz. We are not a seller of Helium miners and mining hardware.