Teltonika BAT120 UNINTERRUPTABLE POWER SUPPLY
The Teltonika backup power supply in solid aluminium housing has a 2300 mAh 17 Wh battery. It serves as a power bank for the router. In the event of a power failure, the battery takes over the router's backup power for up to 6 hours. It is connected as an intermediate link between the outlet and the device.
Teltonika BAT120 delivers a signal to a compatible Teltonika Networks device that the main power supply has been lost,allowing it to send out a custom alert.
This backup power supply is compatible with Teltonika RUT2xx, RUT95x, RUT3xx, RUTXxx, TRB14x, TRB2xx, TSW110, TCR100 devices.
Key Features:
• Battery capacity 2300 mAh, 17 Wh
• Durable aluminium housing
• Interface: 1 x 4 pin DC connector (IN)
1 x 4 pin DC connector (OUT)
1 x IN PWR LED, 1 x OUT PWR LED, 4 x Power status LEDs
• Alarm Output: 1 x active HIGH output, max output 12 V, 2.5 mA
• Dimensions: 100 x 30 x 85 mm
• Weight: 315 g
• Operating temperature: 0 °C to 45 °C
• Mounting options: DIN rail, flat surface placement
Example

of

using

the

Teltonika

BAT120

battery

backup

source
There are situations where we need to keep measurement systems and data transmissions with measured data in continuous operation. Such an example can be food or medicine warehouse, where the temperature must not change below or above the critical value for reasons of hygiene or safety. In the event of a power failure on the cooling device, it is necessary to continuously monitor the temperature values despite this failure and send data for reporting. It is also appropriate to set up warning alarm processes. In this way, key employees learn without delay that something unexpected is happening in the warehouse and can proceed on tasks to restore the electricity supply, find the location of the failure or the reason for the outage, or transport the goods to a replacement warehouse.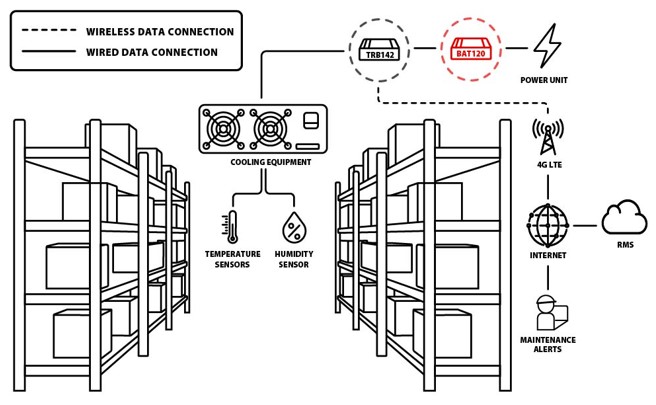 In this case, the BAT120 backup power source is included as an intermediate element between the electrical socket and the Teltonika TRB142 cellular gateway. In the event of a power failure at the input to the BAT120 backup source, it takes over the continuous power supply of the gateway for up to 6 hours from its battery. When the power supply is restored, the battery is automatically recharged to full capacity and is thus ready for unexpected situations again.

Presentation of Teltonika BAT120 in video
More technical parameters can be found in the attached datasheet.